How To Obtain Your Police Report & Pending Case History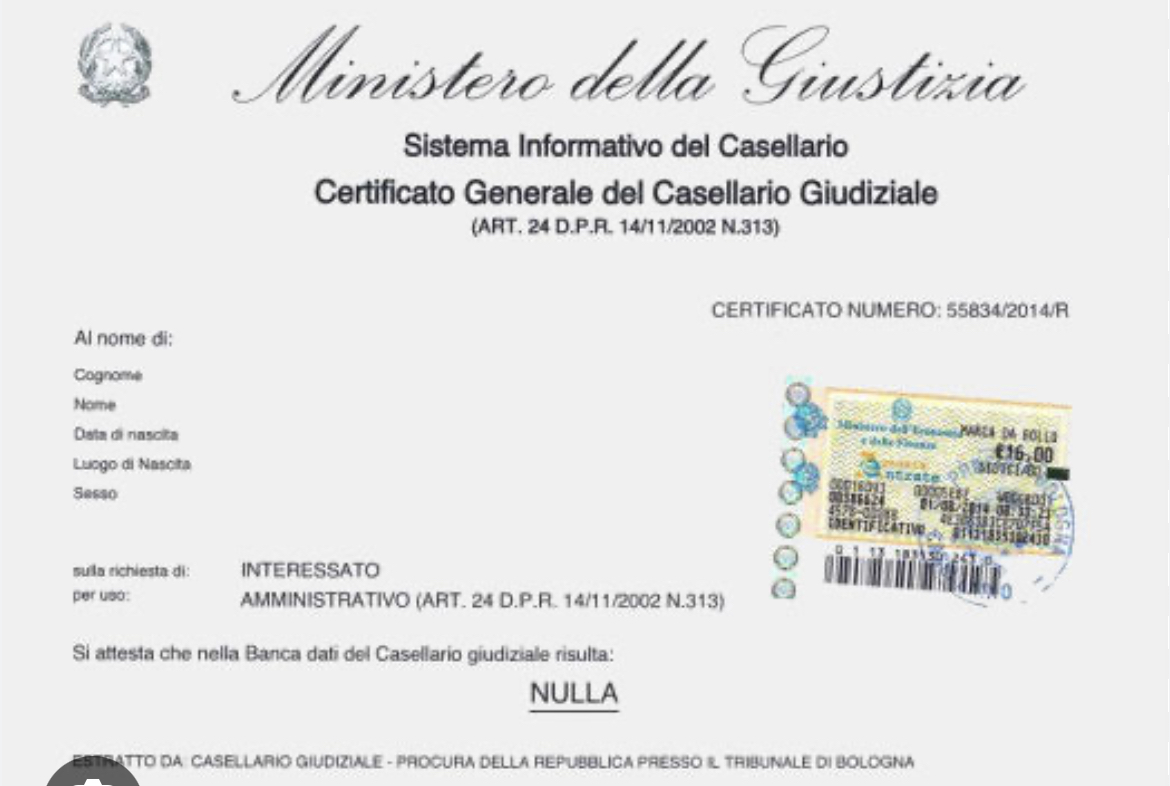 How to obtain your (Cassellario giudiziale e carichi dei pendi ) police criminal record and pending court case history from the Tribunal in your region.
As the application form for the (ynci) national executive officers still on going for the 2023/2025 national executive offices.
Many may be bothered with some of the stringent conditional requirements demands put in place by the electoral committee, particularly the demand for police criminal records (Cassellario Giudiziale e Carichi dei pendi) to enable that no any of the national officers are having criminal history that could jeopardise their tenure in office.
But how do you go about this document?
Normally, a candidate can booked appointments or go directly to the the department of justice in his/her provinces. At the same time the document can be booked directly online without stress.
How to book online?
Basic the below steps:
Note you may experience some technical error or delay on this website, but preferably I would suggest using a computer instead of smartphone.
Step 1: To book online (click), go to your Google browser and type the following: www.procura.Verona.it or put dot your state instead of Verona above. When the page opens, you go to (news) "notizie", and click on the link with Cassellario Giudiziale.
Note: There's a technical glitch on the platform, which I would advise you use a computer instead of smartphone.
Step 2: You will be redirected to a page wherein you'll be asked to click another link to proceed with the application.
Step 3: Choose in the drop menu Cassellario di giudiziale and select if you need it urgent or regular, then select from the drop box again one of the motive while you should be exempt from (bollo) the revenue stamp. The regular appointment days for collections is 5 days, while if you choose urgent it can be in 3 days.
To add the (carich dei pendi) pendi criminal history, choose (aggiungi) add from the bottom down near the "proceed" menu in order to add this as the second documents and choose same reasons while you should be exempt from paying the revenue (bollo) stamp.
Step 4:
Anagraphy
Fill in your data's and take note that as a foreigner you don't need to select the from the place of birth menu meant for citizen born in Italian. You'll have to select insert your state of birth manually on the menu with (nato al estero) born outside Italy. Fill in all necessary details including your codice fiscale and answer the security question at the bottom of the page before proceeding.
Note: you have to check the privacy box before you can proceed as well. Take note that the security question can be some how convincing as it requires a little knowledge of mathematic in order to get over it. lol
After you are successful with this stage, you should be able to succeed with your appointment. The regular appointment to collect it is five days (Verona) depending on your region.
With this you should be able to have this document very easy if you follow the basic steps, but I would advise you contact your provincial justice department first or should in case you face any challenges during the application process.
Published by the Yoruba National Electoral Committee (PRO)